IMPORTANT NOTICE: DUE TO THE CURRENT CORONAVIRUS PANDEMIC AND IN THE LIGHT OF GOVERNMENT ADVICE, DONCASTER ASTRONOMICAL SOCIETY HAS TAKEN THE DECISION TO CANCEL ALL TUESDAY SOCIAL MEETINGS AND SOCIAL GATHERINGS AT THE OBSERVATORY FOR THE FORSEEABLE FUTURE. WE WILL BE WE WILL REVIEW THE ONGOING SITUATION AS REQUIRED IN ACCORDANCE WITH GOVERNMENT ADVICE. FROM WEDNESDAY 12th AUGUST WE WILL BE HOLDING ON-LINE MEETINGS VIA THE INTERNET-SEE MEETINGS PAGE FOR DETAILS.
Next Zoom Meeting: Wednesday 13th January 2021 at 8pm. Nick Hewitt, "The Great Debate". For info contact the Secretary
Members of DAS cleaning the observatory domes. Photo: Paul Booker.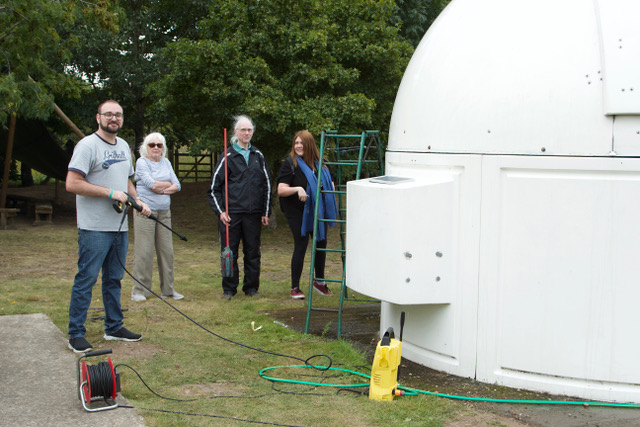 Providing astronomy for the casual observer, serious enthusiast and a means of accessing the night sky using the best facilities in Yorkshire. Local schools are especially welcome to use our facilities and experience.
We are available for group visits to the Observatory and can also take astronomy to your groups with telescopes and illustrated talks. Contact our Secretary

for more details.
View the night sky in mixed and pleasant company in a secure environment. Go to the Observatory item above for directions to the site in Austerfield.
But before you set out, take a look at the Monthly Night Sky to see what's about, and the Local Weather too.
We're open on clear Friday nights for members, and welcome the public too during Summer and Winter months, at no cost. 
We ask that members of the public pre-arrange their visit with our Observatory Manager before attending.
Being a Society member, brings many other benefits, including observing on clear nights at our Observatory, use of the best of amateur solar equipment and being able to borrow telescopes.
For non-members, if you would like to visit us to see what we're all about,

your first two meetings are free of charge. Membership is open to to all ages. If you are 17 years of age or below, an adult must accompany you.
If you would like to join the society, then please email the  Secretary

for details or just come along to the next society meeting and meet our members

.
Light refreshments are available.

Copyright © 2018-20 Doncaster Astronomical Society. Registered Charity No: 1091486