Boat Building
For my day job, I build boats. Not very many, after all, it's just a hobby, 4 in total, hardly a major production, two in steel and two in wood.
My first was 20 years ago, a steel narrowboat, as used on English canals in the past. As is my way it was to my design, so had to be different, and many of the members of the boating club I joined, thought me strange, but since then several of my unusual design points have become accepted practice, the most important one being the canopy I built on the back, almost all of them have canopies now.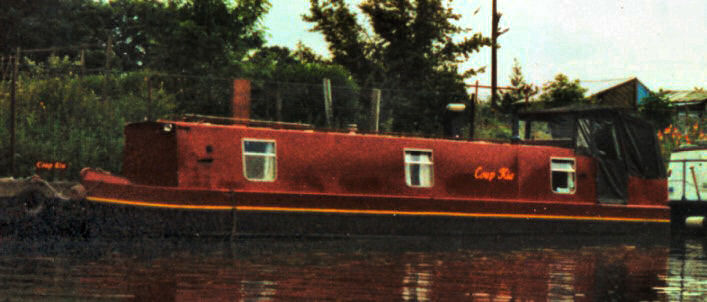 My second was a canoe to a purchased design, so long ago that I've forgotten from where. It was about 12′ long and I equipped it with the paddle of the design, then oars, made of 1.5″ square softwood stiffened with glass thread on the front and rear faces embedded in epoxy resin. The blades were made of 4mm ply hooked and stiffened with glass cloth embedded in epoxy resin.
My next design was a 15′ rowing boat of 4mm ply. I used a flow program by Gregg Carlson, his normal business is making printing machines but he'd been interested in boats and computers so drew up this little programme to generate flow patterns and plates. I transferred it to TurboCAD for final dimensions. It all went together well and performed well too. The oars were "proper" ones this time of 2″ sq. ash timber but the blades were my usual ply stiffened with epoxy and glass cloth. I used glass rope to stiffen the whole length of the oar as before, and balanced them with lead so they sat balanced on the racing rowlocks with just the weight of my hands.
There was a problem with the boat in that I'd made the hull shape without bilges, a good "U" shape, but found in trials that she was too tender for my old bones and needed bilges or pontoons to make her more stable. I chose pontoons because they could be removed if they didn't work. In the event they worked perfectly, so they stayed.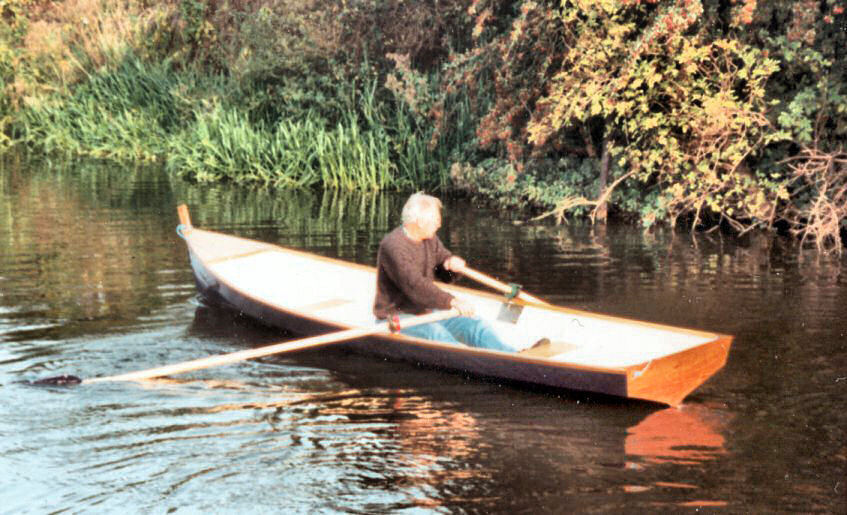 I'd become tied up in other things and had decided on something larger, and donated the rowing boat, Jacarri, to the boat club, on whose park she sat for a couple of years, till a committee man asked what I wanted to do with her. Do the best for the club said I, so he sold her for £100, to someone who came up from London and rowed her back there. At least we saw him rowing her into the distance and she hasn't been seen since.
I started on my current boat soon after, when my wife and I went to live with my mother to look after her as she'd just come out of hospital after a heart attack. We stayed with her for about 10 months, so during all the long hours with nothing to do I designed a new boat. I liked steel, but a narrowboat was too confining and tender, so it had to have more beam, and became a 40′ x 12′ steel cruiser, on the lines of a 1920s coastal freighter, at least my views of one.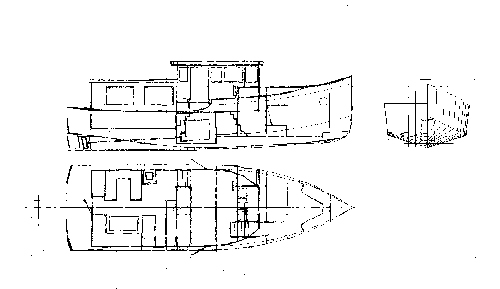 This is what I sketched, sat in the sun during those months, working out some of the details. I used Dave Gerr's "the Nature of Boats", Devlin's Boat Building, and a couple of naval architecture tomes too, but much comes with feel, in the form of "if it feels right, it is right", with much crossing of fingers, but basic engineering plays a strong part too. And it was something I felt I had to do.
The basic work of hull shape came from Gerr and was generated by using Gregg Carlsen's software.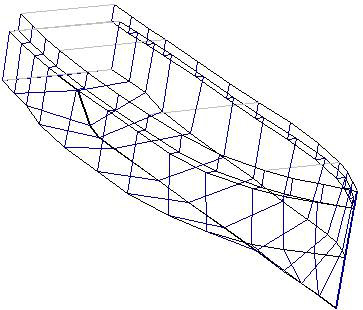 A wire frame drawing from the Carlson software.
It then had to be transferred to TurboCAD, where the waisting of the sheerline, wheelhouse and the remainder of the work was done.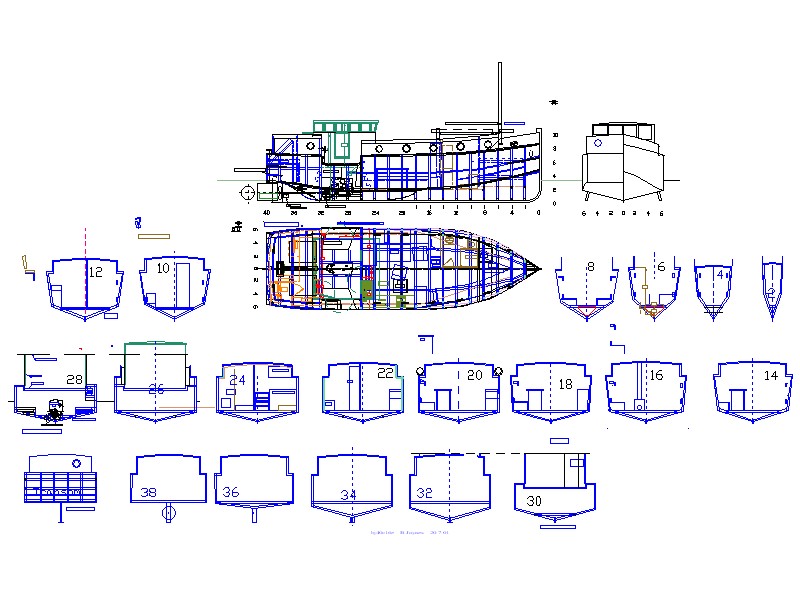 You'll see from this that it doesn't resemble the original aim, but lots more thought went into it between. And this is more or less how she finally turned out, with the galley moved forward to opposite the forward head, and a small cabin added in the prow, large enough for 4 bunk berths.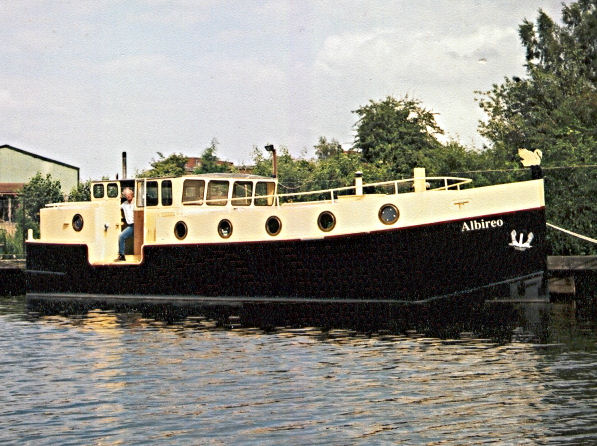 This is what she looks like from the outside, the interior is still a long way from completion.
You can see she's in working order and close to completion.


This is the astronomy group out on a trip in high summer, it doesn't get much higher, though it didn't rain.
Some details about the boat. She's 40′ long with a beam of 12′, and a draft of 35″. She displaces 21 tonnes fully loaded with water and fuel. A Parkins Sabre M92 diesel powers a 23 x 13 pitch prop and an hydraulic motor to drive an 8″ double prop bowthruster. Ballast is in the form of steel blocks and is a bit excessive at 5 tonnes, with about 2 tonnes in the bilge keels, and will be reduced. A weed hatch in the stern cabin gives access to the prop. Bilge pumps are fitted at the stern gland, the engine bay, the main cabin and the bowthuster.
Her main electrical system is 12vdc, but when land-line connected, a 230vac system with 4 sockets in the stern cabin, 12 in the main cabin and 2 in the fore cabin, can be used.
Her galley is equipped with an electric fridge, a propane oven and 4 ring hotplate and grille. Water is heated by means of an engine calorifier and an in-line gas heater.
The main cabin heating comes from a solid fuel stove which also warms the fore cabin. There are 6 berths in the main cabin and 4 in the fore cabin, and a double berth in the stern cabin.
The main head with wash basin, shower and manual flush ship's toilet, is accessed from the main cabin, and a second is attached to the stern cabin, with ship's toilet and wash basin.